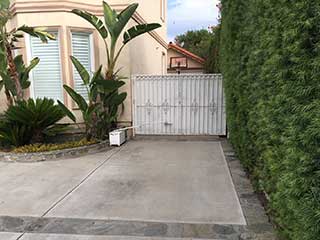 Your gate is important, and our company prides itself on being able to provide the widest array of relevant repair and installation services at the most reasonable prices in Santa Monica. You'll be hard pressed to find a more professional team anywhere nearby.
Gate Troubleshooting and Repair
There's a lot that can go wrong with a gate, but our technicians can deal with anything life throws at you. It's not always easy to tell what the problem is when a gate starts acting up (or stops reacting at all). These systems have a complicated chain of components that need to work in cooperation, and a failure in any of them could prevent the whole mechanism from working. To troubleshoot the system, our team will go over every inch and test each component to see where exactly the problem lies. From frayed electrical wires to physical damage to wrought iron bars or wooden gate panels – nothing is beyond our repair skills.
Replacing A Faulty Part
Accidents or prolonged wear and tear can render some gate components inoperable, and the passage of time can make old hardware just plain obsolete. Our team can replace old components with new ones made by trusted manufacturers like Ramset, Doorking, and Liftmaster that can fit your particular gate system and restore maximal functionality. Whether its just an antenna or a hinge that needs replacing, or the entire opener or intercom system, our technicians can have it set up for you in no time at all.
New Gate Installation
In addition to repair and replacement work, our team can build custom made driveway gates from the ground up. Sliding, swinging, and hybrid systems are all on the menu, and can be constructed out of wood, aluminum, wrought iron, or a range of other materials. Openers, sensors, intercoms, and extra features are all including in our gate installation service.
Professional Gate Technicians Near You
Our team is available anywhere within Santa Monica limits, and our experts are equipped to handle any gate-related dilemma. Give us a call or use our online system to book an appointment for the service you require.