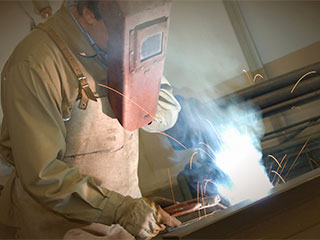 If your automatic gate system is malfunctioning, our team is ready to help. With more than a decade of experience providing repair services near Santa Monica, our company is the perfect choice for fast and reliable solutions no matter what the issue is or which part of the system is involved.
Metal, Wood and Iron Gate Repairs
The wide array of materials that these systems can be made of means there's an extensive range of problems you can encounter, and no material is completely invulnerable. Wooden driveway gates are susceptible to warping and rotting, which will damage their visual appearance and their appeal. Steel and wrought iron gates may rust and corrode, which will also ruin their aesthetics and may even cause them to operate slower or to even break down in extreme cases. Each problem requires a different approach, and our team is ready to offer these services to you. From expert sealing and waterproofing to dent removal and even welding repairs, our technicians can handle any project.
Intercom System Problems
A faulty phone entry system may not necessarily prevent your gate from working, but it will certainly make things more difficult. You need to be able to talk to the people on the other side without having to go there physically, not to mention, you definitely don't want to have to go there after talking to them just to let them in. Our team can supply replacement parts for all types of gate intercom systems, so whatever's causing the problem, rest assured that our technicians will have no trouble fixing it.
Sliding and Swinging Driveway Gates
The different ways these systems can move means that the range of potential issues they can experience is quite diverse. Swing gates tend to suffer from issues such as worn and cracked hinges, while sliding systems may find their tracks clogged with debris, thus preventing the wheels from passing through. Our team understands the problems that each type can encounter, allowing us to quickly pinpoint and resolve issues with any type of gate system.
The Best Gate Service Technicians Near You
From faulty intercom systems to cracked wrought iron hinges and a whole lot more, there's nothing that our team can't solve. Get in touch with Gate Repair Santa Monica today to schedule an appointment; we offer services 7 days a week, including emergency same-day appointments for urgent problems.
Need more? We also provide:
DKS Gate Opener
Security Gate Repair
Parking Garage Gates
Aiphone Gate Intercoms