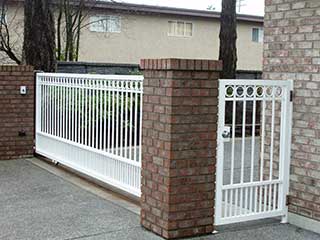 Iron gates have been a design favorite for hundreds of years, and with good reason. This classic material isn't just tough and durable, it can also be turned into a wide range of different styles. With everything from elegant arched gates to simple, modern slatted designs, it's no wonder that wrought iron is one of the most popular materials on the market today. Here are just a few of the options available to you.
Arch Iron Gates
When people think of stately homes, they think of decorative arched iron gates. A gentle upwards curve to the top of the frame provides the perfect position for some decoration, and many of these designs also feature some ornate elements, sometimes finished with a gold trim. A great choice for classic appeal.
Reverse Arch Gate Designs
The top of these gates are similarly curved, but instead of rising to meet in the middle they dip down. This dip can be as steep as you like, depending on how tall the frame is and how low you want it to be in the center. These iron frames can be decorated on top as well, but because there's not as much space available in the middle the designs tend to be a little less ornate.
Solid Sheet Iron Gates
The trouble with most iron gates is that you can see through them, due to the gaps between their bars; not so with this design. By incorporating sheets of metal, onlookers are prevented from getting a look into your property. Designs can be created by molding the sheets of metal, so you don't have to sacrifice curb appeal for privacy.
Flat Top Designs
If you're after something a little more understated than an arched gate, a flat top might be the perfect design for you. Foregoing the ornamental topper, flat top iron gates often incorporate more modern geometrical designs into their decoration, with more of an emphasis on straight lines and square corners. A flat top iron frame is a great idea if you have a more modern home, since it can match the aesthetic more closely.
Looking to have a new custom made iron gate installed? Get in touch with us to get the best service experts in Santa Monica to help you with this project.