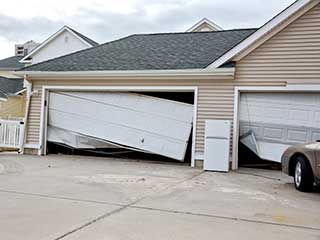 It's very important that you take good care of your garage door, as it protects your stored belongings from the elements, and also provides some added security for your property. When something goes wrong and the door doesn't open or close the way it's supposed to, you'll want to find a professional technician who can fix the problem quickly without charging the equivalent of a second mortgage for the service. That's exactly when you'll want to give our team a call.
Spring and Cable Issues
Because garage doors can be very heavy, they rely on a system of pulleys to support their weight. The springs are what provides the tension-based force necessary to make lifting the door a relatively easy feat, and the cables are the conveyers of this energy that help distribute some of the weight. When either of these units breaks, the door can get stuck or refuse to open automatically or manually. To ensure you don't needlessly put yourself at risk, you need to have our technicians deal with these components and carry out the cable or spring replacement for you safely and quickly.
Common Electric Opener Problems
An automatic door relies on the motorized unit called "the opener" in order to work when you use your remote or your smartphone app. When some of the unit's components malfunction, however, you may find the door doesn't respond the way you may be used to. Garage door opener problems can range from a broken chain, broken motor gears or issues with the internal circuitry or the logic board. Whatever the cause, our technicians will troubleshoot the unit, locate the source of the problem and solve it right then and there, to ensure you can continue using your door automatically.
Damaged Panels and Bent Tracks
Hardware damage is something that must be repaired as quickly as possible, to avoid the knock-on effect that can worsen the condition of other components that haven't been damaged. If you need to have anything from the tracks to the panels replaced, you can't go wrong getting in touch with our team at Gate Repair Santa Monica to have new replacement parts of matching (or superior) quality installed. Our vast range of knowledge and skills covers every possible problem your garage door may experience. Simply give us a call and our repair specialists will be on their way.