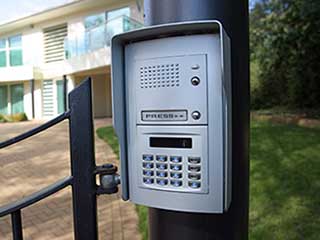 Your property's automatic gate allows you to control who enters or leaves. You need a reliable way to identify visitors, though, in order to ensure those who make it through aren't strangers with bad intentions. An intercom system is far more than just a convenient way to communicate with visitors and let them in remotely; it's an essential part of keeping your property secure. Our company provides a comprehensive list of repair services that cover any problem these units may suffer from, including bad wiring and physical damage.
Common Problems With Phone Entry Systems
Many issues can arise with gate intercom systems, since they are complex electrical devices. Some issues can be slightly inconvenient, like frayed cables that make communication a hassle, or problems that pose a major security risk, such as a video entry system that doesn't properly display the view from the camera. Our team can provide solutions for any problem that may arise, regardless of what type of system you have. Our technicians bring a slew of replacement parts with them to any job, to be able to solve the great majority of problems on the spot.
Installing Your New Gate Intercom
Old, unreliable phone entry systems are often more trouble than they're worth. Modern units, however, also offer enhanced security and convenience, often coming with useful features such as video surveillance, recording and even WiFi connectivity. That means that some models can connect directly to your smartphone. Our team has more than a decade of experience working with intercom systems of all types, and can offer in-depth guidance on the perfect model for your home. Before carrying out the installation, our experts will advise you on the different models available today and make sure that you choose one that meets your needs and budget limitations.
Get Your System Fixed Today
Get in touch with our experts at Gate Repair Santa Monica today and our technicians will get to you and fix whatever's wrong with your intercom system. There's no problem our team can't solve.