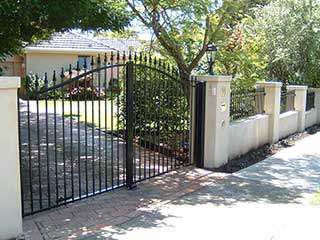 Finding the right new gate for your property can be hard - knowing which design and materials to choose is difficult for any homeowner, as there isn't just one suitable option or combination. This quick guide aims to give you some help by explaining the main factors you need to consider.
How Much Space Do You Have?
The first crucial step towards deciding on the right gate for your driveway is finding how much room there is for the installation. This is essential because it will determine what type of gate you can install in the first place. First, measure the width of your driveway - this is how wide the gate will need to be. Next, check to see whether there is space in the front or back of the driveway's entry point.
Which System Will Fit?
With your measurements made, you can identify which type of system you can choose to install. A sliding gate will require at least the full width of the driveway as available space to one side, plus 3 feet for the automatic operating mechanism. A swing gate doesn't require space on either side of the driveway, but it will need room to swing outwards or inwards; a single-leaf design will require a full driveway width, while a double-leaf system only requires half a driveway of space on each side.
Which Design Is Right For You?
Each type of system comes with its own benefits and drawbacks. For instance, sliding gates must move along a rail or a track, which can become clogged if it's near lots of vegetation or gets filled with debris. Alternatively, a swing gate relies on a set of hinges to operate, which can eventually wear out and even crack, meaning this type of mechanism will probably require more frequent maintenance. Weigh the pros and cons of each system before making a choice - our experts are very useful at this point, and will be happy to offer you some professional advice.
Deciding On The Material
Driveway gates can come in a huge range of different designs, including many different materials. No matter which type you chose, you can opt for a classic wrought iron or a clean, homely wooden look – or aluminum and steel, depending on what suits your needs. Each type of material can be ideal for different uses: wood is strong and hardwearing, but it also requires a fairly high amount of maintenance. Wrought iron gates tend to be strong and durable too, but they're vulnerable to rust, unlike aluminum, which is lighter and gets damaged easily. Steel is a great choice for those looking for privacy and security, but it can be very heavy and will need an opener capable of producing sufficient horsepower. Again, our team will be able to provide you with in-depth guidance on every related subject, so don't hesitate to get in touch with us to ensure you find the best gate for your driveway